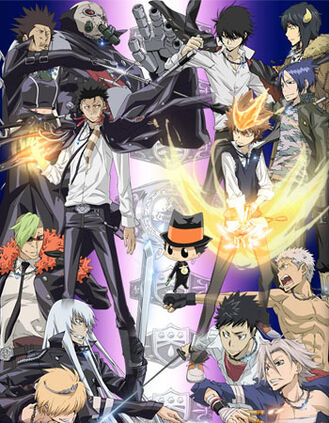 &nbsp
Earlier, I made an article for predictions if KHR would be dubbed sometime soon. Unfortunately, I decided to remake the article for a new one because that one pretty much sucked bird dick (LOL). So, here is a Bandai Entertainment prediction dub for the anime.
Bandai Cast
Edit
Tsunayoshi "Tsuna" Sawada: Johnny Yong Bosch
Reborn: Michelle Ruff
Hayato Gokudera: Yuri Lowenthal
Ryohei Sasagawa: Vic Mignogna
Takeshi Yamamoto: Quinton Flynn
Kyoko Sasagawa: Cristina Valenzuela
Haru Miura: Laura Bailey
Kyoya Hibari: Derek Stephen Prince
Lambo: Wendee Lee (child); Roger Craig Smith (adult)
Mukuro Rokudo: Dan Woren
Chrome Dokuro: Stephanie Sheh
Basil: Todd Haberkorn
Dino: Sam Riegel
Giotto: Tony Oliver
Iemitsu Sawada: Joey Lotsko
Nana Sawada: Kari Wahlgren
I-Pin: Karen Strassman
Bianchi: Ali Hillis
Xanxus: Troy Baker
Superbia Squalo: Kyle Hebert
Leviathan: JB Blanc
Mammon: Danielle Judovits
Flan: Spike Spencer
Belphegor: Brian Beacock
Lussuria: Christopher Corey Smith
Colonnello: Roger Craig Smith
Lal Mirch: Philece Sampler
Skull: Brad MacDonald
Tetsuya Kusakabe: Travis Willingham
Ken Joshima: Michael Sinterniklaas
Chikusa Kakimoto: Sam Riegel
Birds: Steve Kramer
Fuuta: Brianne Siddall
M.M: Mela Lee
Shoichi Irie: Grant George
Byakuran: Steven Blum
Kikyo: Keith Silverstein
Zakuro: David Vincent
Bluebell: Colleen O'Shaughnessey
Torikabuto: Greg Eagles
Daisy: Jason Spisak
Lancia: Patrick Seitz
Gamma: Doug Erholtz
Nosaru: Brian Donovan
Tazaru: Paul St. Peter
Yuni: Cherami Leigh
Lampo: Roger Craig Smith
G: Yuri Lowenthal
Alaude: Derek Stephen Prince
Asari: Quinton Flynn
Knuckle: Vic Mignogna
Daemon Spade: Dan Woren
I will update the Bandai Cast section at any time possible.
This is not real; it was just made for fun!