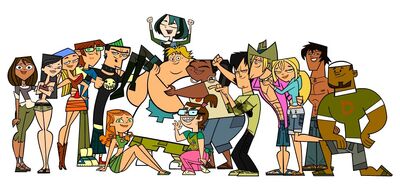 Total Drama Action ("Sai no Oshin Akushon" in Japan) will be dubbed in Japanese and will air on Tv Tokyo and Cartoonnetwork Japan. The second season can be a bit different from the previous, as its japanese dub changes the original names of the contestants and making them romanji, and there is a bit of a change for some new seiyuus. As a prediction, this is for fun and may not happen at all.
Japanese Cast
Edit
Chris Mclean (Romanji: Ryuga-sama) - Hidekazu Ichinose
Chef Hatchet (Romanji: Hideki) - Fumihiko Tachiki (replaces Toshiyuki Morikawa for this season)
Geoff (Romanji: Ryo) - Koki Uchiyama
Duncan (Romanji: Debu) - Daisuke Kishio (replaces Ryo Naito for this season)
Bridgette (Romanji: Kazumi) - Ayana Taketatsu
Cody (Romanji: Reiji) - Maaya Sakamoto
Courtney (Romanji: Azusa) - Aya Hirano (replaces Sayuri Yahagi for this season)
Ezekiel (Romanji: Matsuuda) - Suguru Inoue
Harold (Romanji: Akuuma) - Noriaki Sugiyama (replaces Daisuke Kishio for this season)
Heather (Romanji: Nimadoru) - Asuka Okame
Beth (Romanji: Shino) - Emiri Kato
Gwen (Romanji: Gojira) - Aki Toyosaki
Eva (Romanji: Nova) - Hoko Kuwashima
D.J. (Romanji: Kenta) - Showtaro Morikubo
Izzy (Romanji: Miraii) - Shouko Ishii (replaces Yuu Kobayashi for this season)
Justin (Romanji: Naruko) - Takashi Kondo
Katie (Romanji: Zetsu) - Nami Miyahara
Sadie (Romanji: Ritsu) - Misato Fukuen
LeShawna (Romanji: Yumi) - Urara Takano
Lindsay (Romanji: Rikura) - Haruka Tomatsu
Noah (Romanji: Ichiro) - Daisuke Namikawa (replaces Mayumi Tanaka for this season)
Owen (Romanji: Satoshi) - Nobutoshi Canna
Tyler (Romanji: Ken) - Daisuke Nakamura
Trent (Romanji: Ryu) - Yuki Kaiji
DJ's Mother (Romanji: Kenta's Okaasan) - Junko Takeuchi
Blaineley O'Halloran (Romanji: Ruka) - Chiaki Omigawa
Information
Edit
Japanese Opening: UVERworld - "Yura Yura"
Japanese Ending 1: Ayana Taketatsu w/ Aki Toyosaki, Asuka Okame, and Haruka Tomatsu - "Boy" (episodes 1-13)
Japanese Ending 2: Maximum the Hormone - "Rock n' Roll Chainsaw" (episodes 14-26; Celebrity Manhunt)