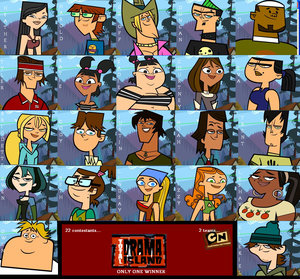 &nbsp
This here is the Japanese dubbing predictions for the Canadian animated show, Total Drama Island (in Japan, its name will be known as "Sai no Oshin Shima"). The seiyu cast will be put up as well, as the opening themes in Japanese and the ending theme, also. For a prediction of seiyuus, I will look back on my anime idea, Total Drama Sujira ("Sai no Oshin Suji-Nauuiri" in Japanese) and use voices from that as a dub.
Theme Music
Edit
Japanese Opening: Psychic Lover - "Take My Soul Forever"
Japanese Ending 1: Aya Hirano - "OH! My Darlin'"
Japanese Ending 2: Sai no Oshin Shima Cast - "Kitadu no Kitazoru nana Rock (Sai no Oshin Shima anthem)" (Episodes 14-26)
Japanese Cast
Edit
Chris Mclean - Hidekazu Ichinose
Chef Hatchet - Toshiyuki Morikawa
Bridgette - Ayana Taketatsu
Beth - Emiri Katou
Cody - Maaya Sakamoto
Courtney - Sayuri Yahagi
D.J. - Showtaro Morikubo
Duncan - Ryo Naito
Eva - Houko Kuwashima
Ezekiel - Suguru Inoue
Geoff - Koki Uchiyama
Gwen - Ryoko Shiraishi (Japanese episodes 1-7), Aki Toyosaki (Japanese episodes 8-ongoing)
Harold - Daisuke Kishio
Heather - Asuka Ogame
Izzy - Yuu Kobayashi
Justin - Takashi Kondo
Katie - Nami Miyahara
Sadie - Misato Fukusen
LeShawna - Urara Takano
Lindsay - Haruka Tomatsu
Noah - Mayumi Tanaka
Owen - Nobutoshi Canna
Alejandro - Toshiyuki Toyonaga
Sierra - Omi Minami
Trent - Yuuki Kaji
Tyler - Ryohei Kimura (Japanese episodes 1-5; 22), Daisuke Nakamura (Japanese episodes 6-7; 28)
DJ's Mother - Junko Takeuchi
Blaineley O'Halloran - Chiaki Omigawa
Broadcast in Japan
Edit
Tv Tokyo Channel (Thursdays, Fridays at 7:30 P.M.)
Disney XD Japan (Monday-Wednesday at 3:00 P.M. and 3:30 P.M.)